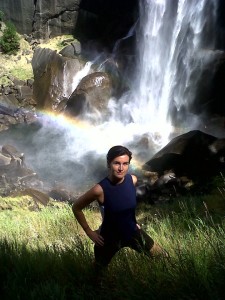 'My mission is to promote personal well-being.  I offer healing techniques that are geared toward the balance of the physical, emotional, psychological and spiritual health of a person.  Offered modalities are the traditional Reiki and Indian Head Treatment.  I also offer spiritual energy works such as Seichem, Violet Flame, and Quantum Healing.
If you can't come to the office, a Distance Healing is available as well.'
The address is:
Floating Lotus
169 Main Street
Gloucester MA
(access through the store)
Are you interested to become a healer?
Check the current and upcoming classes. In Silvie's healing classes, students learn how to recognize their intuition and quickly pinpoint an area that troubles the patient the most. They learn how to use their ability to sense a particular pain and transform its negative energy into positive healthy energy. The goal is to heal on physical, emotional, psychological and spiritual levels.
Nature is an integral part of healing. Silvie promotes retreats and spiritual travel locally, as well as internationally. The goal of the travel is to have a positive transformation of the self. Tours can be designed by request. For more information, visit the ecotours section.
ABOUT SILVIE LOCKEROVA:
Silvie has been a resident of Cape Ann for 13 years.  She is originally from the Czech Republic. In addition to Czech, she lived in several places around the world, and has experienced traditional and non-traditional healing techniques. She started studying alternative medicine before the age of 17, discovering her natural intuitive gifts; learning about brain frequency work, and continued with Holotropic Breathwork, dream work, kinesiology, Osho Meditations, shamanic healing and more. She has been practicing Reiki healing for over 20 years, and became a Reiki & Seichem Master/Teacher. Angelic work and Violet Flame is today commonly used with her Reiki healing sessions. Being interested in metaphysics, she has learned a modern technique called Quantum Healing, also known as healing in the Theta brain level, which has profound benefits for the body and the spirit.
Silvie enjoys creating events and workshops which are linked to health and wellness. Subscribe for the newsletter to stay updated.
An important part of Silvie's spiritual growth was working in Africa, supporting humanitarian projects. Beside that, she has worked for many years as an international tour guide on nature adventure-related trips; discovering powers of energy vortex places.
Read more about Silvie in her blog:
http://www.silvielockerovahealing.com/uncategorized/why-we-are-where-we-are/
"What if our religion was each other, our practice was our life, prayer our words. What if the temple was the earth, forests were our church, holy water – the rivers, lakes, and oceans. What if meditation was our relationships, the Teacher was life, wisdom was self-knowledge.  What if love was the center of our being."
~ Ganga White